In January of 1999
we created two special things we created our Cause Page, which show's Women&Children's Support for many causes.

If you have not visited there please stop by before you leave.

Also in January 1999,we created a new award. This award is called Protecting Our Children. This award is given to web sites that show their support in protecting our children.

If you would like to apply click here.
I would like to thank all our supporters for adding our logo to their web site.

If you would like to add our logo click here


Again thank you all for making the web a better place to visit. Even though we come across some not so nice places to visit on the net, I have to say truly there are so many wonderful web sites out there who are trying to battle against the bad ones.
And I honestly believe Good will always win over Evil.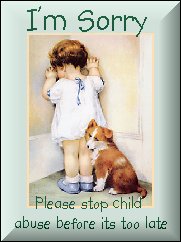 http://members.tripod.com/ibkimmi1/

If you would like to add this logo to your site
Click here for instructions
If you email us and let us know you are using our logo we will be more than happy to list your site as one of our cause supporters.




Sites are listed in random order
Does your site support a cause?
Please let us know, we would love to
place your cause here


---