We at Women&Children believe in many causes.
Causes which effect Every Man, Woman ,and Child.
One person alone cannot take on the world but together we can make a difference.
Isn't it time you stood up ,and said enough is enough.
We have created this web ring in hopes to spread the word about Child Abuse. If you would like to Join our web ring and help us fight Child Abuse
Just follow the simple steps below.

Qualifications for the rings are very simple

Your web site must contain some information somewhere about Child abuse, may it be a cause page ,links to child abuse information ,your own personal stories, whatever it is you have done to help promote child abuse awareness.

Each site will be screened before entering, to ensure that we are all linking to safe clean sites.

(Any web site that is inappropriate to Women or Children will not be entered into this Webring)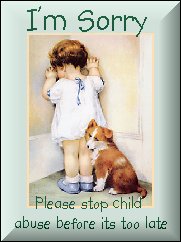 If you would like to add this logo to your site.
Just click on the graphic for instructions on how to download.
If you email us and let us know you are using our logo we will be more than happy to list your site as one of our cause supporters.

First save the two images to your own hard drive.
Click and save as is.

Second you MUST place the we bring on the url you submit.
If you are going to place it on a web ring page,
Please submit that URL.

It makes the web ring move smoothly, and everyone can surf in and out of your web site with ease.


Once you have added the code to your page,


http://members.tripod.com/ibkimmi1/


Did you know that April is
National Child Abuse Prevention Month?

Click on the banner to be taken to our cause page




---