We at Women&Children believe in many causes.
Causes which effect Every Man, Woman ,and Child.
One person alone cannot take on the world but together we can make a difference.
Isn't it time you stood up ,and said enough is enough.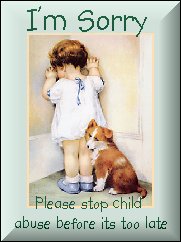 http://members.tripod.com/ibkimmi1/

If you would like to add this logo to your site.
Just click on the graphic for instructions on how to download.
If you email us and let us know you are using our logo we will be more than happy to list your site as one of our cause supporters.




Child abuse knows no age, race, sex, religion or socioeconomic status. Every child is vulnerable. In 1998 over (3,195,000) children were reported for child abuse and neglect to child protective service (CPS) agencies in the United States. These are the last stat reports on abuse Physical abuse represented 22% of confirmed cases, Sexual abuse 8%, Neglect 54%, Emotional maltreatment 4% and other forms of maltreatment 12%. You may think of these as just number,but Behind each of these there is a story of a real child hurt, a family torn apart, future relationships damaged. Do you know what is going on in your neighborhood? I wanted to share a little story with you,today we had a couple arrested in our neighborhood for the death of their seven month old daughter,the couple admitted that they kicked the baby down the hall into her bedroom,because she had been up all night crying,and they could no longer stand the crying. Unfortunately this is just one many children who are physically abused,verbally abused,and killed each years. Every day you turn on your television you hear about another child who has been abused.Please for the sake of all the children in the world,please help to stop child abuse,before it's too late.


ChildHelp Usa


Childhelp USA is dedicated to meeting the physical, emotional, educational, and spiritual needs of abused and neglected children focusing efforts and resources on treatment, prevention, and research.Childhelp operates the Childhelp National Child Abuse Hotline,If you are currently suffering from abuse please get help! Do not wait! Go to a pay phone or any phone where you can speak freely. Call 1-800-4-ACHILD (1-800 422-4453) any time day or night




National Committee to Prevent Child Abuse


There are many forms of Child Abuse,All which are unacceptable and inexcusable
Physical abuse-
This includes hitting, kicking, slapping, shaking, burning, pinching, hair pulling, biting, choking, throwing, shoving, whipping, punching,paddling
Emotional abuse -
This includes yelling, screaming, name-calling, shaming, negative comparisons to others,
Sexual abuse -
Any sexual act between an adult and child for the gratification of the adult
Neglect Physical -
This includes lack of supervision, inappropriate housing , inadequate provision of food, inappropriate clothing for weather, abandonment, denial of medical care, inadequate hygiene Neglect Emotional -
This includes ignoring, lack of appropriate physical affection, not saying I love you,and other words of endearment withdrawal of attention, lack of praise, lack of positive reinforcement.

Are these laws really protecting our children?

Did you know that April is
National Child Abuse Prevention Month?

Click on the banner to be taken to our cause page




---