Women&Children
Would like to say Congratulations to all of our,
Outstanding Woman's Web site Winners
We welcome you to stop in and visit these truly outstanding web sites.
Below you will see a short description of what makes these web sites and their owner's so outstanding.
If you would like to see how you can be an outstanding woman web site winner.
Please stop by our award page to learn more.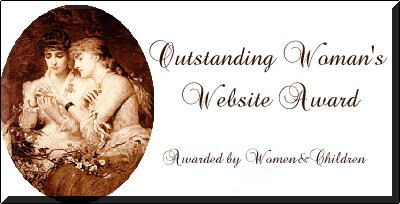 Make the most of yourself,for that is all there is of you
-Ralph waldo Emerson-



| | | |
| --- | --- | --- |
| | Personal webpage about me, my family and friends. Inspirational stories, tributes to lost loved ones, causes that I support and much more | |
| | Memorial Site, Grief Support, Poetry, Prayers, Recipes, and so much more | |
| | Alzheimer's disease information and one woman's story told through the poetry, photos, and journal of a caregiver daughter. | |
| | A Support Page to help people deal with weight loss. | |
| | | |