Welcome To Our Award Page.


We have created several awards, so take your time in choosing the right one.

Please read the rules before applying:

Rules

1:
No x-rated pornography  web sites, No racism ,I do not and will not tolerate viewing web site's that are inappropriate to Women&Children.


3:
No or few bad links and graphics.

4:
Graphic's must be either made by you, or give credit to the graphic's that you use.

5:
If you win you must create a link back to our web site.

6:
Please let me know which award you are applying for, Or I will chose one for you.
Note it is possible for us to award you with a different award, if we feel your web site is better suited for a different award.


You will be notified through e-mail if you are a winner, so make sure you have doubled checked your e-mail address.

Also make sure you have entered the correct Url and E- Mail address ,I get many applications that have invalid addresses.

It may take me a week or so to view your  web site, so please be patient.


---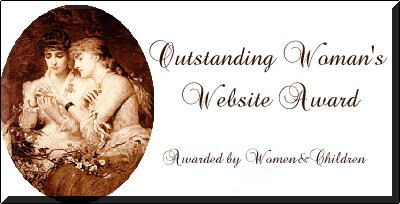 This is a separate specialty award.

Please visit our
Outstanding Woman's Web site Award Page
for more details.

(This also means you can apply for one of the awards listed below too).

They go through a separate submission form. So do not request this award through the submission form below.

---

This loving memory award is given out to web sites that are dedicated to the memory of a loved one.

As a mother who has created a memorial site for her son, I know how difficult and painful it can be to create these special pages.
I first would like to say how sorry I am for your loss, and in the Memory of your loved one we offer this gift.

---

This award is for a children web sites only.

Either a child has created their very own website or you have created one for them.

---

This is award is for web sites ,and the person who has found the strength to go on fighting, in spite of some of the curve balls life has dealt.

Somewhere on your website I have to learn about the struggles you have had in your life.

---

This protecting our children award is for  web sites that show their support in protecting our children from Child abuse and other violent crimes against children.

This award is very important to me ,it is also not given out lightly this award stresses to the world that we will not tolerate acts of violence towards our children anymore.

Please show your support by visiting our cause page.
Join the crusade for stopping violence in this world. It just maybe someone you love, life you are saving.

---

Please sign our guest book , Before or after you submit the form.
This is not a rule as it is Net-etiquette, It's nice to know you have taken the time to sign our guest book.