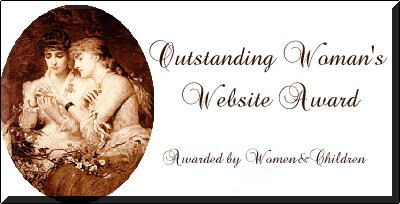 Women&Children
believe all women are outstanding and special in their own ways. We would like to award all you outstanding women, who have created your own outstanding website.
Please read the rules and qualifications to earn our newest and most prestigious award.


Your web site must be created and maintained by a woman.

Your web site must reflect the outstanding woman that is in each one of us.

Not only will your web site be awarded on its beauty but it's content.

Your web site must contain solid information ,not just a list of links to games, graphics ect.

Your Web Site must contain a minimum  of 5 pages.

We would like to get the feeling we have learned a little something about this outstanding woman, behind the scenes of this outstanding web site.

Creating your own graphics is a plus, if you have not learned how to create your own graphics, we would like to see credit to the creators.

Each and ever one of your pages, will be reviewed. Which makes this process very time consuming, so please be sure your web site is ready to be viewed by the public.

A lot of the reviewing will be based on my own likes and dislikes. Please note on an average 1 out of 10 are winners. Do not be discouraged if you do not win, and please don't send me complaints, your web site might need to grow a little, then reapply.

Woman with web sites that show lots of  love and compassion, for their fellow sister, and our children will have a better chance in winning our award, than web sites that are based about themselves and their families.  
We are looking for web sites that have heart.
So if this sounds like your website please read on.

In addition to these qualifications we will also check,

to make sure your web site Contains NO offensive material

No or few bad links and graphics.

Must be easy to navigate.

Load time is not of great importance, since I believe some graphics are worth the wait .

If you win you must create a link back to this page, so other women may get a chance to win their own outstanding woman's web site award

Sign our guest book,
Signing a guest book is  net-etiquette something we all should be practicing

Each web site will not only win an award, we will also place the name of your web site, url, and a short description of this outstanding web site on a special page.

At the very end of the year we will announce (One Grand Winner).
Who will be chosen as an Outstanding Woman Website Winner of the year.
(When you fill in your description on the application,  this is one we will use on our winners page.

Good luck, and don't be afraid to apply.
Due to the large volume of email we get, we are sorry we cannot respond to non winners.




Outstanding Woman's Website Award is not related to our other web site awards
You may apply for one of our other awards too, this is a specialty award.
Apply for another award




Make the most of yourself,for that is all there is of you
-Ralph waldo Emerson-